For-Net


Entretien et nettoyage d'édifices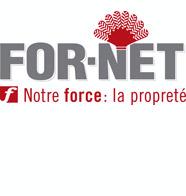 www.groupefortin.com
Established in 1956, FOR-NET has rapidly become the leader in the field of commercial, industrial and institutional cleaning services.
FOR-NET offers a custom-made service of exceptional quality by employing qualified personnel, by focusing on environmentally friendly products of its sister company Forkem R & D and adopting a personalized approach that takes into account your very specific needs.
We are confident to contribute to the success of your business, as the tidiness of your environment is synonymous with prestige, in addition to increasing safety while reducing the risk of accidents.
FOR-NET, a renown and recognized name for over 55 years at your service.
Click on our logo to access our web site