Vimont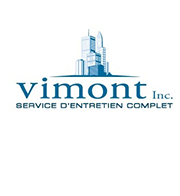 Service D'entretien Ménager Vimont Inc, entreprise founded in 1987, incorporated several years. Our society, young and dynamic has only one priority; to furnish and maintain an excellent services. A service that meets our customers requirements and expectations, with respect, detail oriented and quick services to any demands.
With more than 34 years of experience in the domain of service d'entretien menager. Over time, we have acquired fixed customers, grown as a company and integrate new services. Vimont Inc. has executed l'entretien menager in more than 150 establishments in various sector of activity: commercial, industrial, school boards, office building, health establishments and others.
Small and large surfaces, regular maintenance or on call, Vimont inc specializes in lawn and garden maintenance, in disaster recovery, graffiti removal, window and carpet washing.
LE SERVICE D'ENTRETIEN MENAGER at your entire disposal 24h/ day, 7 days/week.

Contact: Juan Jose Romero
Address: 4-940 rue Michelin
Laval (Québec) H7L 5C1
Tel.: 450-663-9998
Fax: 450-967-7345
E-mail : vimontinc@gmail.com