Allied


Allied Building Services (Quebec) inc.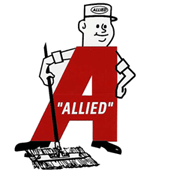 www.alliedquebec.com
Allied has been consistently satisfying clients since 1955.  Experience and dynamic leadership has kept us at the top.
Allied provides cleaning and maintenance services to office buildings, hospitals, institutions, industries, businesses, shopping centres and schools.
Our services also include disaster and post-construction cleanup; gum removal, carpet, window, wall, and ceiling cleaning; and 24-hour emergency service.
True to our commitment to quality and service Allied is certified ISO 9001: 2015. Allied invests heavily on training for their employees and pride themselves with a fantastic training program that has proven successful.
Allied's purpose is to offer professional quality cleaning and maintenance services to clients in the commercial and institutional sectors, while providing them with their specifically tailored needs.  
We are constantly learning and adapting to change, which has been quintessential to our success.
Click on our logo to access our web site